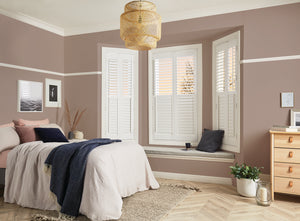 Frequently Asked Questions
We specialise in crafting made-to-measure curtains in Southampton, so we are unable to offer precise quotes over the phone.
However, we can certainly provide you with an estimated price based on the dimensions you provide.
For an accurate quote, we recommend scheduling a survey appointment with one of our experienced advisors.
They will take precise measurements and offer you a tailored quote. Rest assured, during the appointment, there will be no sales pressure and our advisors typically wrap up within an average of 45 minutes





A deposit of up to 75% will need to be paid for your fitted blinds or curtains, when you place your order, depending on the value of the order.
We'll schedule a visit from one of our advisors to your home, ensuring it's at your convenience and within our regular working hours. If needed, out-of-hours appointments can be arranged, subject to availability.
Our goal is to have an advisor at your doorstep within seven to ten working days from the time you book your survey appointment.
However, please note that the timing may vary based on your location and advisor availability.
Searching for 'bespoke blinds near me'? Look no further.
As a local blinds company in Southampton, all our estimates are valid for 3 months from the date of the estimate.

Complete your details on our contact form and we'll be in touch to arrange a convenient time or call us on 02380 510 333 to arrange an
appointment.
Average appointment times are around 45 minutes but this will vary depending upon the type and number of products you are interested in. If you are looking for blinds for an entire conservatory, your survey appointment will take longer.
If you need one simple fitted Roller blind for a bathroom, it may be much quicker.
You can cancel your survey appointment by calling our team on 02380 510 333.
All of our advisors are fully trained and have in depth knowledge across all of the fitted curtains and blinds we provide, so you can have one appointment for multiple products.
Make sure that you inform our team when booking your survey appointment so that enough time can be allocated.
You will receive a confirmation email once you have booked your survey appointment.
Our survey appointments are FREE to those customers in our catchment area and no cost will be added to the product when bought. If you live further out we may need to charge you based on distance; this will be discussed with you over the phone
when the appointment is scheduled.
Your blinds will be ready to be fitted three to five weeks after you place your order. The current lead time for curtains/ roman blinds is six to eight weeks. Your advisor will arrange the timescale for your fitted blinds with you when you place your order.
Before the fitting, please clear the window area and make sure that any existing blinds or curtains are taken down. Let us know if you would like our surveyor to do this for you during installation so that we can ensure enough time has been scheduled.
This depends upon the type of order you have placed. Your advisor will be able to inform you of this at the survey appointment stage.
There is no cost to rearrange a fitting and the simplest way to do so is by contacting our team on 02380 510 333. 
Grip Fit™ is a new system to install fitted blinds without using a drill, meaning no holes or mess!
Ideal for rental properties and tiled bathrooms. The system works using a specially developed compound and a clever bracket system to push out on your recess.
Pleated blinds can be made to almost any shape and used in roof windows too, making them a popular choice for conservatories and glass extensions. Vertical blinds can be made to fit sloped windows. Shutters are available to fit shaped, feature windows for example arched windows.
You need to take extra consideration when choosing a window dressing for your bathroom. With hot showers and baths running, it is often a humid space that has special requirements. We offer a range of moisture resistant fabrics, which makes them ideal in steamy environments and they are simple to clean too - just give them a wipe. Consider our fauxwood Illusions range if you like the look of real wood but want a reliable product for this environment that will not warp. We have recently introduced a waterproof range of PVC shutters, specifically designed with bathrooms and wet rooms in mind.
Our range of Pleated blinds includes special performance fabrics with sun reflective backings. These have been cleverly designed to help to keep the temperature down in the warmer summer months while retaining the heat once it starts to get cooler. Pleated blinds are ideal for the roof of your conservatory as they can be made to fit the different shaped windows. For the sides you can opt for more Pleated in a co-ordinating or contrasting colour or choose from our full range of blind types.
Blinds can really help get rid of the chill in your conservatory. Not only do they look cosy but they have a practical advantage too. Our range of Pleated blinds includes specialist fabrics that help to retain the heat. You can fit Pleated into your roof and then choose from our full range of blinds for around the sides. Fully-lined blinds look warm and when pulled down, block out the outside world completely.

Shutters look beautiful in a bay window, enhancing this lovely feature rather than hiding it. Alternatively blinds can be fitted in a bay - Verticals can be made with a curved headrail to follow the shape of the bay. Or choose to have one blind fitted at each window - as our blinds are made-to-measure the end result should be seamless. Curtains look great in bay windows; and our tracks can be fitted to follow the shape.


Yes - on your fitting day, your surveyor will advise on child safety components for the type of blind you have chosen. Some blinds are inherently safe and do not require a child safety device. To find out more about child safety devices for blinds visit www.makeitchildsafe.co.uk.

Windows can account for up to 20% of heat loss in a home. Our made-to-measure window dressings can help you to reduce this heat loss by trapping a layer of air between the fabric and the glass and help to regulate the temperature in your home all year round. Layering blinds, curtains, and shutters can further help to reduce your heat loss.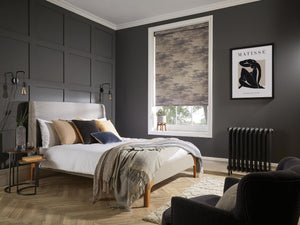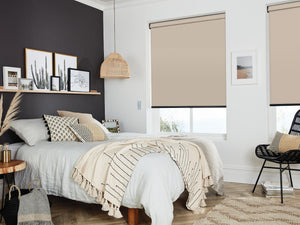 "We are very grateful to you and your colleagues at Solent Blinds for all the work you have done on our project. We were hugely impressed with your service and your commitment to finishing the job while overcoming various problems which you did not cause. You deserve great credit and huge success. When we need blinds and curtains again your company will be the first we call and we will certainly recommend you to others when the opportunity arises. "
"My husband and I would like to thank your team of blind and curtain makers and fitters for the excellent service you have given us. We have and will continue to recommend Solent Blinds to family and friends. "
"What a wonderful experience, what a difference the curtains
have made to the warmth of our room, they are also made perfectly."
"Just wanted to say how pleased we are with the vertical blinds installed in our conservatory. Your surveyor Mark was excellent in suggesting a number of practical options, he didn't rush us at all and there was no hard sell. The option we went with we hadn't even considered. Kev installed the blinds professionally and was very courteous. We will certainly consider using you again when we're upgrading other rooms. Many Thanks."
"Excellent professional, friendly Service, stunning products too. We
would fully recommend Solent Blinds to anyone"
"Brilliant Perfect Service"